MrDrum is a simple, user friendly drum and bass machine, using QuickTime drum kit to play drums. MrDrum comes with some drum loops ready to play, user can modify them or create new ones, 4/4 or 3/4 tempo based. MrDrum can also play random strokes on selected track for simulation of human performing. MrDrum can export loops to standard midi file.
Extra drum loops provided from mrdrum users will be published in this page, below.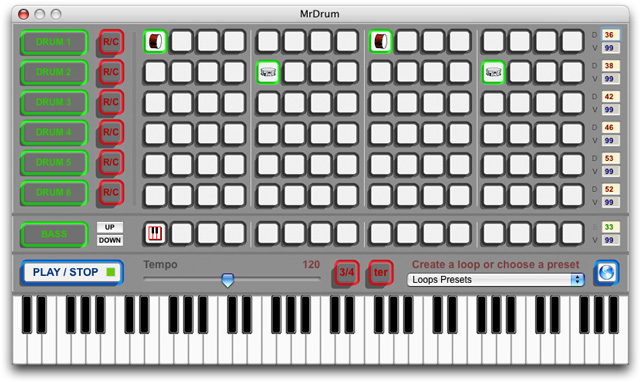 please send mrdrum loops folder (or single loops file) compressed (.zip, .sit) to info@arcobaleno2001.it
they will be shortly reviewed and posted to this page for everyone's convenience.
please also specify if you would your name and/or email posted near loops link, thanks.
mdk1.zip ( 20 loops, by Tim Parnell )
arcobaleno_loops_01.zip ( 3 loops, by francesco vinci, arcobaleno2001 )